Members must of 18 years of age to apply. Please include a link to your baseball writing in the payment memo space provided within PayPal.
IBWAA Lifetime Membership: $75.00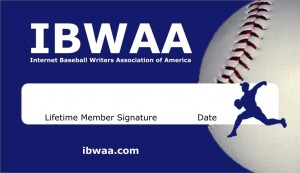 Code of Conduct:
The IBWAA is proud of its broad membership eligibility standards and firmly believes that diversity in writing style, point of view, team affiliation or alignment, generation, and background makes our field stronger, more vibrant, and more welcoming to the baseball public and to both aspiring and accomplished internet writers. The IBWAA encourages all of our members to support and mentor each other professionally and to promote each others' work and expects that members' commentary on articles, forums, and social media will be civil, constructive, and professional, if at times spirited. Members who are unable to act in a civil, constructive, and professional manner work in direct opposition to the goals and purposes of the IBWAA and the vast majority of its members; failure to conduct oneself in accordance with this standard may result in removal from the IBWAA.